How to embrace uncertainty
A guide to navigating the future.

"When nothing is sure, everything is possible." – Margaret Drabble
Predictions of pandemic proportions
Predicting the future is one of humanity's greatest stumbling blocks. We simply can't resist wondering what the future will hold and today, futurology has grown to become a field in its own right - one which influences economics, politics, and everything in between. Futurology is defined as 'the study of the future' and uses a variety of tools drawn from science, statistics and sociology to try and parse out possible and probable futures. 
Companies and governments also depend on futures researchers to help them make important decisions. Therefore, the predictions that futurologists make are not small conjectures but rather complex ones. The only problem is, that even with the most advanced technology and research methods, we have a hard time predicting the weather, let alone the turn and tide of global events. 
For example, take some of these predictions below (by people from all across the world), for 2020. Some of these, such as the increase in global temperatures are spot on. Others aren't quite so accurate (see aliens), or at the very least, open to interpretation.
However, there's a certain global catastrophe that's definitely missing from all of the predictions: a pandemic.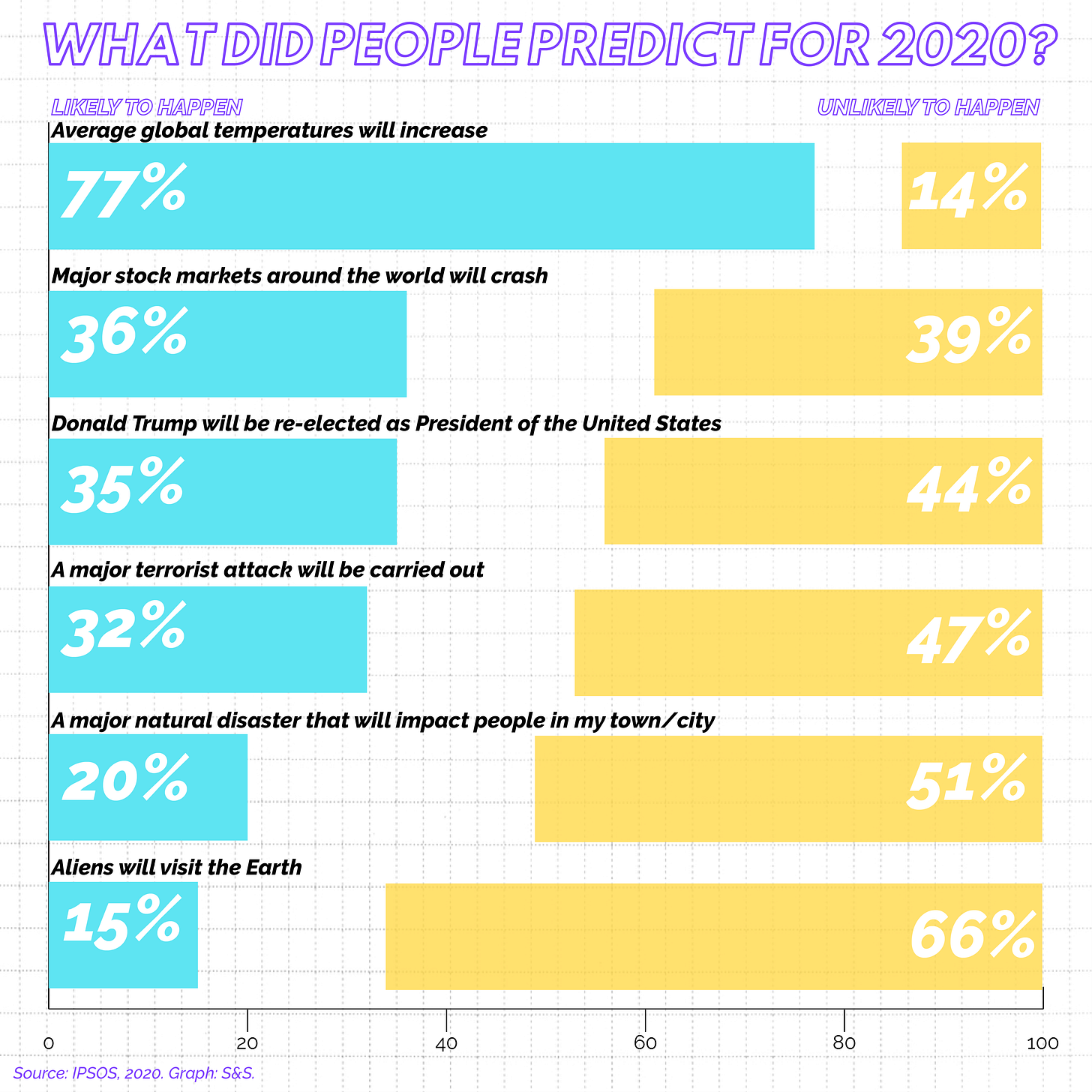 Predicting the unpredictable 
Why wasn't the coronavirus predicted for 2020? Well, actually it was. Researchers warned of the COVID-19 outbreak as early as 2007, in a haunting paper which called for "wildlife and biosecurity in farms and wet markets, which can serve as the source and amplification centres for emerging infections" to be cracked down on. 
The long answer as to why the pandemic didn't appear in the 2020 predictions also has a lot to do with how we make decisions in uncertain times. Futurology is a science, and like all sciences, it uses data to make sense of the world. However, predicting something like a global pandemic - an event that has happened only a small number of times in modern history - is difficult to foresee simply due to a lack of data. 
But there are ways to do this. Robert Lempert, from the Society for Decision Making Under Deep Uncertainty, uses alternative methods that are developed when reference points for predictions can change in an instant. One thing he advocates for is scenario planning, and not thinking about a prediction as the end of the process but rather the beginning of it. "It's about trying to identify not one future, but a whole range of likely futures," he says. "The next step is to then stress test a number of possible scenarios and work out how those individual futures would unfold."
When applied to your own life, it's not enough to have a plan A or a plan B but rather, a set of possible outcomes of what could happen after Plan A or Plan B unfolds. We usually think only one or two steps ahead, but envisioning the continuation of those events can help you get more comfortable with a range of potential futures. Think of like making yourself a personal flowchart - what happens after X, what happens after Y, and is Z then a possible future for me?
If you think the uncertainty that we are facing now is a lot more than previous generations have experienced, you might be right. When applying Moore's law - the idea that the rate of innovation doubles each time it manifests - we can see that the rate of change truly is faster than ever before. Lempert agrees. "The post World War II international order is coming to an end, and we're switching to a new era that we don't quite understand yet," he says. "There's a whole bunch of dimensions in which the world is more uncertain than it has been previously." It's no wonder we're confused.
History doesn't always repeat itself
When you envision the future, you probably don't consult statistics or scientific reports like a futurologist would, but that doesn't mean that you're not analysing data every time you're faced with uncertainty. However, the human brain is hardly an expert in making the right choices and like any analyst, it can encounter difficulties. The things which often hold us back when it comes to predicting the future is a mixture of our tendency to draw on past experience and an overestimation of predicting a future that we actually want to see. 
On a neurological level, we get stumped when faced with uncertainty because of a tendency to optimise our choices by drawing on past experience. For example, when leaving the house on a cloudy day, you will draw on past experiences that clouds = rain, and so would take an umbrella out with you. 
But when making decisions in the face of extreme uncertainty, drawing on past experience is rarely helpful. This is because you are likely facing a situation that you have never experienced before. Just like futurologists, who draw on past and present events to predict the future, this habit traps us into not imagining different scenarios, scenarios we've never experienced before.
Our personalities also have a big influence on how we see ourselves in the future, as well as the decisions we make. Whether you tend to see the future with optimism or pessimism has a sizeable impact on how you make decisions in uncertain situations. Why? Again, making decisions is all about analysis. For example - if you were trying to decide whether to quit your job, your decision will be different from that of a pessimist because optimists tend to overestimate a positive outcome, such as the likelihood of finding a new job.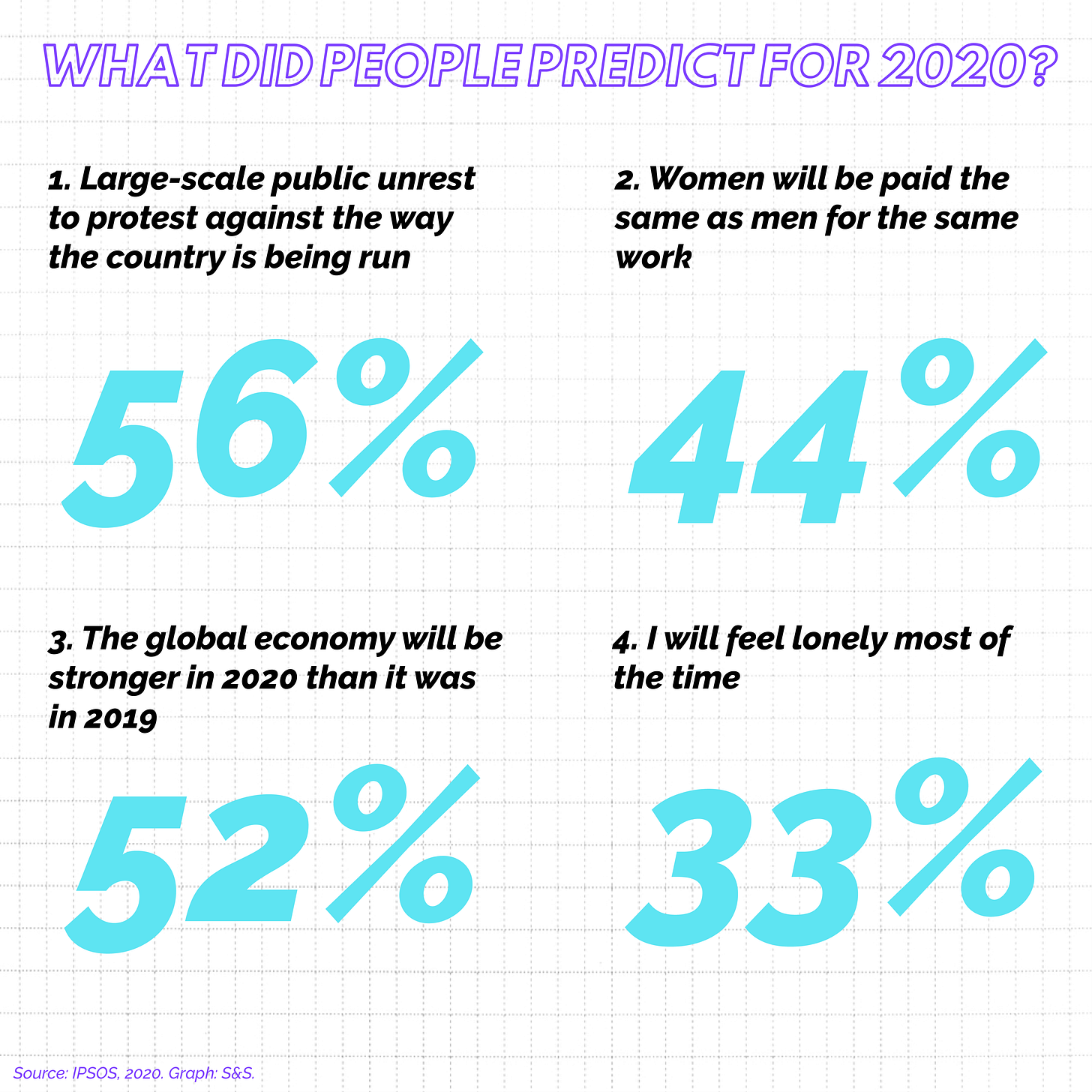 Rose-tinted glasses
When it comes to decisions about our own lives, we tend to be optimistic. Too optimistic, in fact. In 1970, Rutgers University psychologist Neil Weinstein discovered that when it comes to making predictions, we tend to think that the probability of a negative outcome for ourselves is much lower than reality - or, in other words, the 'it won't happen to me' phenomena. Even when presented with objective statistics, people tend to predict that bad things, such as divorce, car accidents, or catching the coronavirus, are less likely to happen to them than to other people. This is a key factor for how we make decisions when we can't predict the outcome. A bit like assuming that you won't get sick, so in a pandemic, are less likely to decide to wear a mask. 
This phenomena is called wish fulfilment and simply stated, it's our tendency to give a higher probability to outcomes that we want to happen. Uncertainty often disturbs us, not because we have no idea what could happen, but because we are faced with too many possible outcomes. This is where wish fulfilment kicks in and often makes us act in a way that hopes to bring us closer to the future we want - even if there's no evidence that it may come true. A bit like thinking you'll win the lottery, even if the probability is painfully low. 
This kind of selective optimism can also blind us. Studies have shown some people will avoid important information to protect their vision of a positive future, thus actively ignoring a series of unfortunate events that could in fact, really happen to them. A psychologist named Kurt Danziger illustrated an extreme case of this in an experiment that was done in Cape Town, South Africa between 1956 and 1962. Danziger asked groups of high school students to write an essay about their predictions for the rest of the twentieth century. The results: around 75% of students of colour predicted radical social change and the end of apartheid. Only 4% of white students predicted the same.
But it isn't all bad. Predicting the future, perhaps not accurately but more vividly requires some imagination. In the early 1900's, a group of French artists created a series of predictions for the year 2000. Many feature the usual hopes for the far future - flying cars, underwater fish racing and an abundance of mechanical robot arms to help with everything from cleaning to construction. A couple of predictions really did come true - like one image which shows a man dictating his letters through a machine, that then translates his spoken words to text. This 19th-century imagination - bold, artistic and seeing it through a long term lens - is a muscle that many of us have forgotten to flex. 
But you don't have to be a 19th-century French painter to do this. According to crime novelist Val McDermid, world leaders who read fiction were better prepared for the pandemic simply because they could imagine it. In a piece on The Guardian, she quotes: "What fiction gives you is the gift of imagination and the gift of empathy. You see a life outside your own bubble." Just like science fiction has inspired some of the greatest technological advancements - merely by imagining them - you too, can imagine new possibilities for your own life by imagining one that previous experience just can't.  
So, how can we make better decisions?
Just because we can't predict the future doesn't mean we have to stop trying - or be terrible at it. We devised a quick reading for you, not to improve your clairvoyance but to empower your imagination and your decision making when the future is all but murky. 

DEATH 
When upside-down, the death card symbolises resistance to change or an inner purging. The first step to making better predictions is simply to be aware of the biases that influence us and try to counteract them. When you're faced with an uncertain future, try to open your mind to all possibilities (not just ones you want to happen) to free yourself from your past experiences. Once you know that anything can happen, you're ready to start finding out what will happen. 
JUDGEMENT 
The reversed Judgement card signifies self-doubt. Usually, that's a bad thing, but when making decisions it's good to have a little scepticism, especially over your own knowledge and abilities. Last year, the BBC conducted an experiment asking readers to predict the outcomes of major global events. They found that, often, people who were complete novices outperformed academics and industry experts in their field. Being an expert can make you overconfident in your knowledge, and can at times make your predictions insular.The same principle applies in your own life. Try to assume you know nothing and weigh all possible options with an open mind. 
THE MAGICIAN 
The magician represents resourcefulness and inspired action and in this case, the most powerful weapon in your prediction toolkit. It has long been proven that we make better decisions when we work with other people. The promise of collective intelligence is so powerful that the UN is collaborating with other organisations to form a decision-making platform to move forward in the pandemic. But just working with other people isn't enough to make better decisions. Studies suggest that a group's collective intelligence depends on the ability for team members to draw each other out and facilitate participation. Just like the magician, your power lies in how you can inspire others to make good decisions.
WHEEL OF FORTUNE
The wheel of fortune is as it says - a reminder that life is constantly changing and fortune is never fixed. In this case, the wheel is a symbol of resilience when your decisions and predictions inevitably go wrong. Just like overcoming biases, resilience is a tool to help you gain clarity and make good decisions when new information - or uncertainty - arises. 
THE FOOL
The fool represents open-mindedness and curiosity, two tools that can help you deal with uncertainty. Use the fool to play, to explore, and flex your creative muscles so that you can harness your power to imagine new realities. Although you may think it is the antithesis of what we should be doing in crisis, playing the fool can make you more flexible and resilient in times of uncertainty and extreme change. 
Disclaimer: these are original stories created by us for this newsletter and are not published anywhere else. If you would like to use any of the data we've analysed please reference us and this newsletter (and let us know). If you would like to republish this story for your newspaper, magazine or blog, please get in touch on sarasabrinadata@gmail.com. 

Projects we're loving: 
The power of maps. This article from De Correspondent exposes how migration maps into the EU are framed to make us think negatively about migrants. It also reminds us of a great YouTube video about the manipulated maps you probably learned in school. 

Bugs and bugs. If corona has consumed your attention lately, Bill Gates is here to remind you that it's not the only deadly disease to worry about. The article has a great chart visualising the most deadly animals in the world. Humans are the second deadliest animals in the world, following mosquitos. 

Berlin Art Week: not strictly data related, but can still inspire different ways to visualise the world. Berlin Art Week is online this year, and open to anyone around the world. From symposia about the future of museums to digital films and exhibitions, it's definitely worth checking out.
Want us to feature your work in our next newsletter? Drop us an email.

Jobs and opportunities: 
David Ottewell, head of data journalism at the New Statesman Media Group is currently looking for a number of data journalists to cover investment, technology, banking, energy, media and other topics and would suit someone in the early part of their data journalism career. Drop him a DM if that sounds like you.
Got an educational course or work opportunity you'd like us to feature? Tell us about it.

Get in touch: